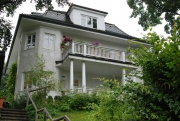 EicherLogistik

Prof.-Kurt-Huber-Str. 22
D-82166 Gräfelfing
Tel./Fax: 089/8544153

Our office is located south west of Munich; town center Gräfelfing.


Taking the car:
Driving on A96 take exit Gräfelfing, follow the sign Gräfelfing on Pasinger Strasse, then make a right onto Bahnhofstraße (direction: S-Bahnhof Gräfelfing), 50 meters in front of the round about make a left onto Steinkirchner Straße and then turn first street right onto Hügelstraße. After 200 meters our office is right in front of you.

Taking the S-Bahn:
From Munich airport take subway: S1 to Laim (direction: main train station, duration 34 min.), then change to subway: S6 to Gräfelfing (direction: Starnberg/Tutzing, duration 12 min.), exit the train contrary to direction of travel, go downstairs, turn right, go through the pedestrian underpass, then turn right again, go up the hill on Prof.-Kurt-Huber-Strasse. After 200 meters our office is on the right side of the street (duration 5 min.).